So I may have skipped a week or two, but I'm back! Linking up with Les over at
Leslyn's Lovely Life
for Tuesday's Tunes!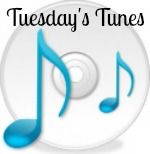 As often as I see these two, I have only seen them perform once. I think that needs to change, because that's just not fair.
Anyway, this is PurgAtory Hill (pat mAcondald & melaniejane), also known as two of my favorite people in the wold. My favorite song of theirs was "Drinkin' or Drivin'" (side story - I just opened iTunes to see if it was "Drinkin' or Drivin'" or "Drinking or Driving" and I double clicked on the album - still not used to the new iTunes - and it started playing. haha).
Back in July of 2009, I went to a show of my dad's guitar teacher/good friend that pat happened to be playing at (and maybe melaniejane too - I can't remember) and I got them to sign the CD that I had (which was a pre-release copy - literally something that pat had burned on the computer and gave to my dad). I was so excited!! Then they were like, "you need a real copy." haha.
The first time that I got to see them perform was on September 11, 2009. I had just turned 16, and I remember the guy my dad and I bought our entry tickets from (it was a small music festival) asked if I wanted to buy drink tickets too. I was thinking "
really
??" I recounted that story later to pat and melanie as a cop was walking by. hahaha. I took a ton of really crappy pictures that night.
Here's one.
That girl
owns
the tambourine. Like, seriously. While they both have had their own successful solo careers (she plays incredible cello - look up her cover of the Beatles' "Come Together" / he is a Grammy-nominated songwriter - "The Future's So Bright I Gotta Wear Shades"), I love love love both of their albums together.
Without anymore ramblings, the song I chose for today: Invisible Pistols from Invisible Pistols by PurgAtory Hill.
I just love the way he says, "I don't know!" haha.